Fired up Flatbread Company brings an eclectic menu that will excite food truck lovers and foodies alike. With a gourmet-inspired menu of flatbread pizzas, sandwiches and fresh baked treats, our menus change seasonally so only the freshest ingredients are used.

We believe that local food not only tastes better, but is better for you. Supporting our local NJ & PA farms and purveyors is at the backbone of what we do. Farm-grown, organic and GMO- free ingredients not only help our communities thrive, but they help people to get back in touch with real food – food that takes hard work to nurture and grow. It is our hope that our seasonal menus will inspire our customers to use locally sourced foods in their own kitchens.

Our chef delivers upscale, gourmet- inspired menus that will reignite your passion for food. Our loyal customers come back time and again to enjoy surprising ingredients such as chorizo, quail eggs and squash blossoms, that artfully top our light, crisp flatbreads. Fire up your tastebuds and enjoy a whole new dining experience.

Our mobile restaurant can be found at local farmers' markets and festivals throughout the NJ & PA. We love being part of events that bring food, farms and families together. We are also happy to bring our mobile eatery to your next corporate event or cater your private party, where we will customize enticing menus to delight your guests. Sound interesting? Learn more about our catering services for NJ & PA.
We are proud to partner with the following local farms and purveyors.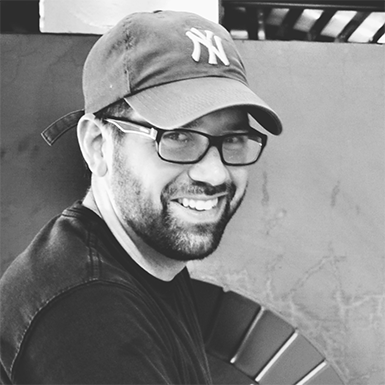 Marc Viscomi
Executive Chef
A classicly trained French chef, Marc graduated from the French Culinary Institute in 1997 training under several influential French chefs including Jaques Pepin and Andre Soltner. Marc began his career as a line cook for the Myriad Restaurant Group's City Wine and Cigar Company in Manhattan, and also had the opportunity to travel to cook for the company as a consultant.
Returning to Tribeca, NYC, Marc went on to become a sous-chef at Laight Street beore helping to open Dylan Prime, where he served as executive chef. At Dylan Prime, Marc's menu creations featuring "new American comfort food" were well received by the New York Times Food Critic.
Seeking a simpler liftstyle and more time with his family in Hunterdon County, NJ, Marc decided to "retire" from the restaurant business and work in the financial industry. However, his passion for food still burned within and was fueled by the bounty of produce and the superior quality of the meats and dairy being offered by his neighboring farms.
Marc decided to combine his talent with his affinity for local farming by creating a mobile, upscale, "farm -to-table" eatery that gives people an easy, and affordable way to try unique dishes and experience custom seasonal menus.
Our most popular pizzas are available year round.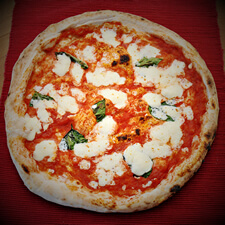 Margherita
San Marzano tomatoes,  fresh mozzarella, organic basil, olive oil, sea salt
Tomato sauce, shredded scamorza (dry mozzarella)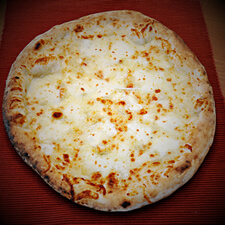 Fresh mozzarella shredded scamorza (dry mozzeralla), olive oil, sea salt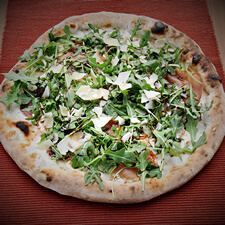 Fresh mozzarella, arugula, prosciutto, aged balsamic, shaved parmesan
Our speciality pies vary by season. Be sure to check back often for our newest creations.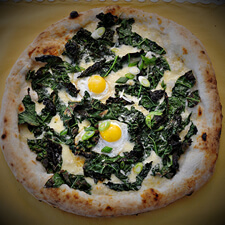 Breakfast
Seasonal vegetable, Monterey cheddar blend, quail eggs, micro greens, scallions. Optional: Uncured bacon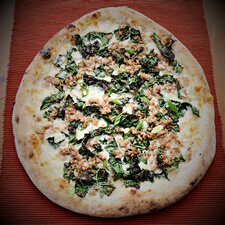 Sausage & Kale
Griggstown white wine and garlic sausage, Cheddar-Monterey cheese blend, caramelized onion, scallion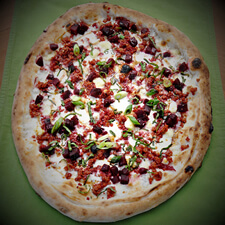 Purple Rain
Purely Farms Purple Rain sausage, fresh mozzarella, feta, caramelized onion, mint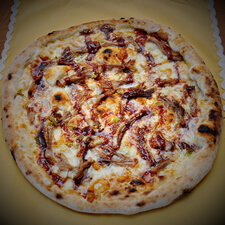 BBQ Pulled Pork
Smoked pulled pork, Cheddar-Monterey cheese blend, caramelized onion, pickled jalepeno, BBQ sauce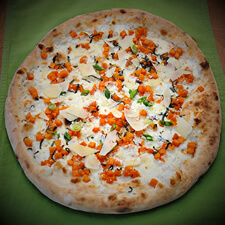 Roasted Butternut Squash & Sage
Roasted butternut squash, fresh mozzarella, caramelized onion, sage, shaved parmesan, sage garlic oil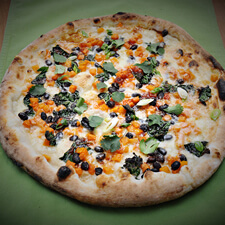 Alex & Dan
Roasted sweet potatoes, black beans, Cheddar-Monterey cheese Blend, honey-chipotle sauce, scallions, cilantro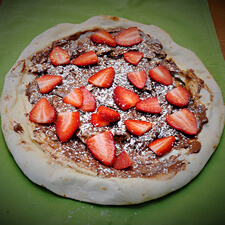 Nutella & Seasonal Fruit
Nutella spread, seasonal fruit, powdered sugar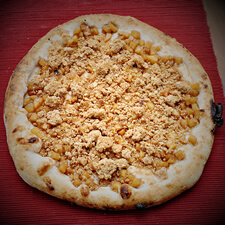 Apple Crumb
Spiced apple pie filling & oatmeal crumb topping
Save room.
A varied selection of sweets may include our famous local honey "sticky" buns, fresh cinnamon rolls with cream cheese frosting and seasonal fruit pastries.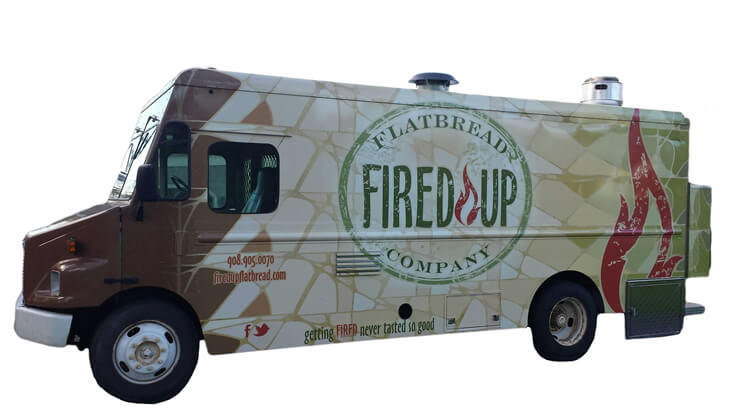 Find Us
Check our calendar to see if we will be coming to a local farmer's market or festival near you!
February

2018

Sun
Mon
Tue
Wed
Thu
Fri
Sat

11

Impact Martial Arts Testing (Tentative)

•
Fired Up Flatbread is happy to offer our unique catering services for your private parties or corporate events.
To find out more send us an email below or call us!

Our self-contained truck will arrive at your event ready to serve you and your guests.  Equipped with an Italian wood-fired brick oven, commercial refrigerator, three bay sink, water heater and quiet generator, we keep the work (and the mess) on our turf,  so you can focus on your guests.

Make your List.
We can create catering menus to accomodate a minimum of 25 up to 150 guests.  So, whether you are looking to have a small intimate gathering of friends for a birthday, anniversary or retirement party,  or a larger group for corporate events, communions or a bar/bat mitzvah, our unique approach to catering is sure to impress your guests.
Customize your Menu.
Our catering menu includes several options from which you may choose, including a variety of pizzas, salads, side dishes and our delectable homemade desserts.  Our Executive Chef will work with you to create a customized menu that will make the best use of local, seasonal ingredients and any dietary needs that you or your guests may have.

Sit Back & Relax.
To complete your event, we are also able to provide all paper products, utensils, serveware and serving tables. With everything in place, you can sit back and enjoy your party.

Our daughter's wedding was in our backyard. We had many guests from outside the US and wanted them to experience some Americana. Fired up Flatbread was the perfect rehearsal dinner. Marc created a specialty pizza using South African sausage that was a particular hit with all our guests. The evening could not have gone better. All of the flatbreads were spectacular, and there were countless varieties. No one went home hungry. Our choice of Firedup Flatbread made the event the unique, casual night we hoped for. Marc and crew were on time, courteous and a highlight of the evening.  We highly recommend Firedup Flatbread.
Dave and Moira GaNun, Sergeantsville

My employees really enjoyed the event and the food. It was easy booking with you guys, you showed up on time and were prepared to serve all those hungry employees. The flatbreads were very delicious, had high quality ingredients and the tasted like some of the best I have ever had. Even the soda offerings were unique and delicious! I also really liked the variety that was offered, to please all palates, even my special vegetarian and even vegan eaters.  That was a huge plus, and I was very impressed with the overall experience.
Ali Quaintance, Partner Engineering & Science, Inc.
Talk to us!
We'd love to hear from you.